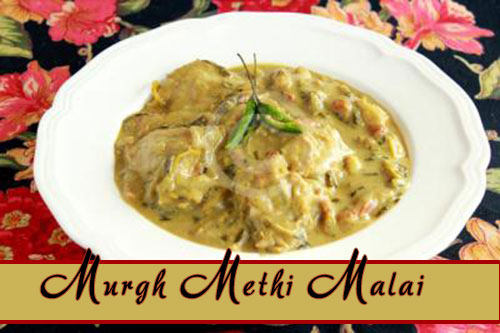 Easy and Yummy to taste. 
Ingredients:
1 whole chicken, cut up into 18-20 pieces, washed.
2 large red onions, finely sliced
3 tbsp ginger garlic paste
12 green chillies, ground to a rough paste
1 1/2 tbsp coriander powder
1/2 tsp turmeric powder
1 tsp  garam masala
1 bunch fresh methi/fenugreek leaves*
2 medium tomatoes, chopped
5 tbsp.  plain yoghurt, whisked well
4 tbsp.  heavy cream/Amul cream
Salt to taste
3 tbsp. Oil
Water- 1/2 cup  
Preparation:
1. Soak the fenugreek leaves in some water + salt  for 10 mins.
2. Squeeze out the leaves and then wash again.
3. This takes away all the bitter taste from the leaves.
4. Wash the chicken well. If you are draining it, you will have to add the mentioned water. If not, the chicken will leave enough water for the gravy.
5. I usually don't drain the water from the chicken.
6. This curry should be creamy and not watery, so please keep that in mind when you add water.
7. Heat oil in a pressure cooker or a non stick pan .
8. Add the sliced onions plus some salt and saute till they become soft.
9. Add the ginger garlic paste and green chilies and sauté for almost a minute.
10. Add the powders and mix well.
11. Add in the leaves and give it a good mix till they wilt.
12. Add in the chopped tomatoes and mix. If you want, you can mush up the tomato pieces with the back of your spoon.
13. Add in the well whisked yoghurt and mix quickly so that it doesn't spilt.
14 Add in the chicken pieces and brown the pieces. Cover and cook for 1 whistle if you are cooking in pan keep it for 5 mins till the gravy get thicken.
15. Open the lid and add  cream.
16. Check for salt and serve hot with rice/chapathi/parata/poori/bread...